Holiday-Package Farmhouse
Lombardy - Wellness & Relax
► Lombardy ► Wellness & Relax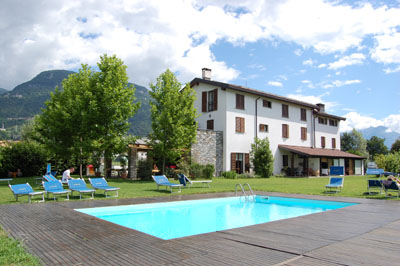 Arrival. Accommodation in guest rooms. Dinner and overnight stay on farm.
Breakfast. In the morning a relaxing massage to ease muscle tension and leave you feeling regenerated, in a state of harmony and balance. Free for lunch. In the afternoon we suggest a drive down to Menaggio (16km) to catch the ferry to Bellagio, a town at the tip of the "Larian triangle" on the promontory which is the border between the two lake districts of Como and Lecco. Free for dinner and overnight stay.
Stay in Farmhouse > (same as previous day)
Breakfast. Another morning spent in total relaxation with sauna or Turkish bath and a 30 minute foot reflexology treatment; by applying pressure with fingers to the feet this treatment resets equilibrium, reduce stress, and is considered beneficial for internal organs, muscles and joints. Free for lunch.
Stay in Farmhouse > (same as previous day)
3 Days starting from EURO 155,00 for person
Stay: See description
Validity: annuale esclusi ponti, festività ed Agosto
Included:
Not included:
Supplements and Reductions: 0-3 anni 10 €/giorno per la culla; cena a consumo, 4-10 anni –75%, adulti –15%
Quick Index Holiday-Packages

Agritourism for Holidays in Italy: Farmhouses by Area
FARMHOUSES ITALY
-
ABRUZZI
:
Pescara
-
BASILICATA
:
Matera
-
CALABRIA
:
Catanzaro
,
Ionian Coast
,
Tyrrhenian Coast
-
CAMPANIA
:
Amalfi Coast-Sorrento
,
Cilento-Salerno
,
Naples North
,
Salerno
-
EMILIA ROMAGNA
:
Bologna
,
Faenza
,
Ravenna
, Rimini -
FRIULI-VENEZIA GIULIA
:
Udine-Venice
-
LATIUM
: Rieti,
Rome
, Viterbo -
LIGURIA
:
Cinque Terre
,
Cinque Terre South
, Genoa, Lunigiana-Cinque Terre,
Italian Riviera
-
LOMBARDY
:
Lake Como
,
Lake Garda
,
Lake Iseo
,
Lake Maggiore
-
MARCHES
:
Ancona
,
Ascoli Pisceno
,
Pesaro-Urbino
-
PIEDMONT
:
Alessandria
,
Monferrato-Alessandria
-
APULIA
:
Alberobello
,
Bari
,
Foggia
,
Ostuni
,
Taranto
-
SARDINIA
:
Alghero
,
Cagliari
,
Costa Paradiso
,
Costa Smeralda
,
Nuoro
,
Oristano
,
Orosei
-
SICILY
:
Agrigento
,
Catania
,
Enna
,
Messina
,
Palermo
,
Ragusa
,
Siracusa
,
Trapani
-
TUSCANY
:
Arezzo
,
Chianti
,
Etruscan Coast
,
Maremma Coast
,
Florence
,
Livorno
,
Lucca
,
Maremma-Grosseto
,
Pisa
,
Pistoia
,
Siena
-
TRENTINO-SOUTH TYROL
:
Trento
-
UMBRIA
:
Assisi
,
Lake Trasimeno
,
Sibillini Mounts
,
Perugia
,
Terni
-
AOSTA VALLEY
:
Aosta
,
Gran Paradiso Park
,
Verrayes
-
VENETO
:
Bibione-Caorle
,
Padova
,
Rovigo
,
Treviso
,
Venice
,
Verona
,
Vicenza
...Farmhouses by Area: select the area of interest